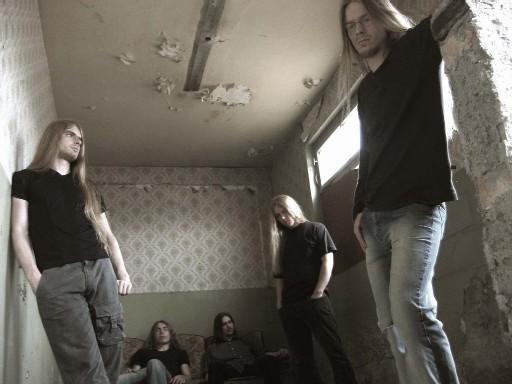 The Source of the Emotion
I think music is always emotion," says Maik Knappe, guitarist of German progressive dark metallers Dark Suns. "Often bands deal with only one and that is the point—to show more of yourself than anger or joy (in the sense of 'party music'; most metal bands make party music). A human being has also got times of sorrow, despair, love and hate. Music is that which is flowing from our hearts, so it would be a strange thing to suppress the feelings you are dealing with every day, wouldn't it?"
Progressive dark metallers. This is a concept they shoved down my throat. The larynx felt awkwardly about this brew of words from the beginning, never becoming bedfellows with it. Although Maik helpfully suggests that somebody might also call Dark Suns' music 'emotional rock with metal influences', the term doesn't make the soreness of the voice box vanish. Soundgarden, Tori Amos, Faith No More, Pain of Salvation, Porcupine Tree, Tool… Yes, yes, all central influences, sure. Don't come to my mind upon listening to Swanlike, the German quintet's debut (and only agreeable) album, though.
Based on their full-length entrance, I envision Dark Suns in a more old-fashioned way; in the sense of two boys meeting, rehearsing in a small cubicle and all of a sudden coming up with doomy riffs they don't understand the source of. In Dark Suns' case, those two boys were Tobias Gommlich and Niko Knappe, Maik's brother. The year was 1997. They too were taken aback by the arrival of the riffs, as there was no place for them in their previous bands. That's when the inauguration of Dark Suns came into the picture. As with any other band of their sort, a demonstration effort with a suitably gloomy title was the next thing in line. That release was Below Dark Illusion, and this was when Maik Knappe was lured into the band—simply because he was sitting in the rehearsal room often enough.
Gothically inclined doom with notable pinches of classy romanticism and deathy inspiration, that's what Dark Suns are, regardless of all the harbourings of Opeth and Katatonia they entertain in their songs. It's 'Bridelicious. Cinders of burnt paradise glow in the ligaments. At its best Swanlike is a vortex; a hermeneutic circle with the hermeneutics replaced with cyclical reverberations of thunder and calm. At its worst it is watered down Britain and over-expressive Krautland. I even thought it was Stainthorpe who did the vocals on "Suffering". Maik confirms that the only contact Dark Suns have had with Aaron was having him watch them live on stage. Hmm. Perhaps I should step up on my pre-interview research or hire myself an assistant.
At any rate, Dark Suns circa Swanlike are better than the deadbeat constituents of their plan A suggest. If you've heard one too many of the dreary MDB clones wallowing down in their all-encompassing dumps, and walked through more than your share of wrecked Teutonic adult angst, here is a band you should place next to Novembers Doom and Morgion as a prime example of sophisticated style and unerring taste.
If Swanlike is Dark Suns' Turn Loose the Swans, I cannot wait to hear their 34.788%… Complete. After two more albums, the wait goes on. Maik claims the successor to Swanlike, carrying the grandiose title Existence, is 'very different to Swanlike'. Supposedly, it ought to be stirring up our brains. If you go for icky Pain of Salvation and Dream Theater concoctions, maybe that is what it does for you. Dark Suns are obviously hooked on progress.
"We try to leave the common paths of creating a song, playing a rhythm or setting a structure," Maik envisions. "I think there are too many bands that always have the same recipe in composing; in our eyes it's not creative—it's not a question of how many tones I can play in thirty seconds or shit like that. Music should be colourful and we try not to always take black.
"Today, I cannot imagine writing songs that are like Swanlike, and in the future the ideas will be different to the stuff we will get on the next album. Remind me if that's not the way, because almost every band says these things but often there is not much more to explore as new. We'll do our best!"
This, presumably, is why Dark Suns spend most of their time in the rehearsal room at present. "It is great to have a lot to do—somehow Dark Suns determines our life and I love it!" Maik rejoices.
No better way to end than that.