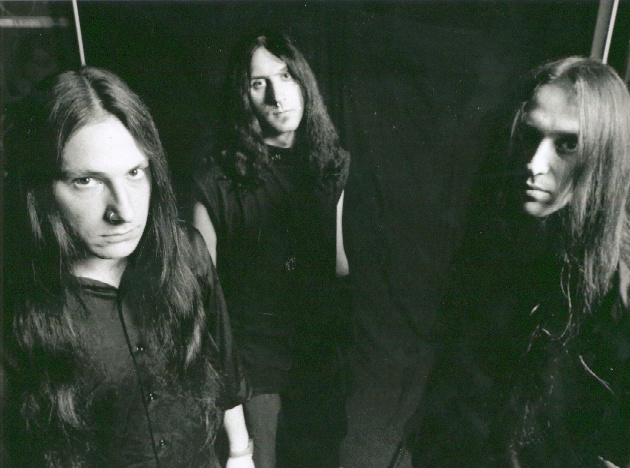 Underdogs at the Sea
Underrated bands customarily have one common feature about them, and that is that they never come or go at the command of magazines. There is no flaming 'return' with the new album, no long awaited 'reunion' or headliner tour 'comeback' welcomed by thousands upon thousands of screaming fans. These bands merely are until they are no longer, with little additional noises. The only other thing you may distinguish is a small fadeout at the end. No newsbreaks, no biweekly information rundowns, zilch.
Novembre, long-running melodic metallers from Rome, Italy, are an underrated band. I was reminded of this rather cheerless fact when the industrious people at Spinefarm were offering Novembre phoners some years ago. Having very much enjoyed the fluent and freshly melodicised Novembrine Waltz, I placed my request, thinking that I would get an agreeable chat with one of the Novembre members on the spirals, frills and noodles of that album. I had no idea the band were just about to release their following album, the remake of the 1995 debut Wish I Could Dream It Again… called Dreams d'Azur. Fortunately, somebody told me about this a few days before the interview and also directed me a copy of said album. Had it been the new Cradle of Filth record in question, I'm sure it would have been escorted into the country by the RAF, with Kerrang! and Metal Hammer hyping it up for months in advance, and I would have known about it for a long while ere any interviews. That's not how it works with these Italians. Strangely, they still encourage exchanging their music over the Internet.
"Honestly, we don't care if you buy the album or if you download it!" exclaims Carmelo Orlando, vocalist/guitarist of Novembre. "It is a label thing; we as artists care about the fact that people like the songs. We don't care about selling and all that, even if I understand that sales are important… But still, what can you do. The prices are far too high and I understand that."
The price can hardly be too high for a Novembre release pre-2005. They deliver class and elegance in spades. The ethereal flow of their music, quite different in comparison to the dominant moods of other melodic 'death metal' bands, is not far from ideal. Carmelo finds it hard to give reasons for the individual nature of Novembre.
"What can I say? We try to make our music. We probably have more influences than many other bands. There are many bands around who play melodic death metal with keyboards and female vocals but I don't really think that all of these bands will listen to things like Dead Can Dance or Tori Amos. Maybe that is something we have more, that we are really into other kinds of music, and you can somehow feel the influences in us. I'm crazy for Radiohead, U2, The Cure the same as I'm crazy for Paradise Lost, Anathema or Opeth. So you can find many things altogether in it. Perhaps we have a very loose background."
The lyrical expressions Novembre decorate their music with also revolve round pretty elastic matters, often expounding on dreams and images of sea. When it's again time to explicate this, much like with the music, Carmelo sees himself as the creator and artist, not the interpreter.
"I'm not a psychologist so I can't explain it. I just try to write the lines following my recollections, memories, feelings and dreams. I try to find the words inside of me instead of the outside. I'm not the guy who reads books and steals someone else's writings. Sometimes people ask me what kind of books I read, but I don't read books because I'm really lazy. I can't read, really. I listen to loads of music and read the lyrics of other bands. I'm not able to give you any deeper explanation."
What he can talk about, as one of the founding fathers of the pre-Novembre Catacomb, are the differences between Italian metal as of way back when and today.
"I do remember that it was a real hard time for Italian bands back then. We only had Necrodeath and Schizo and they were known and worshipped only in the underground. They never really had the place and the time. Now there are bands like Lacuna Coil who sell lots of records. You may or may not like their music but you must admit they're really well known everywhere, having American tours etc. The level of Italian metal has improved a lot since the time we begun."
Releases by Altar of Perversion, VII Arcano, Illogicist, Spite Extreme Wing, Forgotten Tomb and Greyswan, among others, will tell you the same, dear cynical reader. Hmm. I have a weird feeling in my stomach. Could it be that Novembre have just released another album? Maybe two?