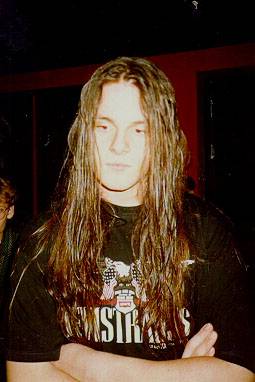 Personally Taken
2003 was an excellent year for the variety of Norwegian metal that continued its transmutation into something less abrasive. Manes' Vilosophe, Solefald's In Harmonia Universali and Beyond Dawn's Frysh all brought into the world something that it could not have done without. Perhaps the greatest shocker of all was Green Carnation's A Blessing in Disguise. Like a maudlin 15-year-old girl getting pissed from two ciders, it recklessly splashed its emotional saliva everywhere. From the head-on hard rock gospels of "Crushed to Dust" and "As Life Flows By" to the wooing prog melancholia of "Two Seconds in Life" and "Lullaby in Winter", one of the best tracks of the calendar year, the third album by ex-Emperor Tchort's gang did it all, leaving more than a few jaws in shambles. You didn't expect this to come from a chap who's spent half his life playing in Norwegian metal bands spanning from the rough to the rougher.
The 'irony' of it all perhaps lies in the fact that the kind of material portrayed on A Blessing in Disguise was not only new to the listener, it was also as previously unmapped by its maker, Tchort—bar the opening riff of "Writings on the Wall", which was culled from a 'suggestions' tape for Anthems to the Welkin at Dusk.
"I don't listen to bands similar to Green Carnation at all," Tchort states, acknowledging that this might take people by surprise. The novelty of A Blessing in Disguise is something that had its unavoidable effects on the process of writing and recording the album.
"I've never played this kind of music before because my background is in death metal and black metal," Tchort says, "so it wasn't easy for me to record it as I had to get used to how to play rock n' roll riffs, how to make it sound good. That was a challenge for me. We didn't rehearse for this album; everything was made in pre-production with just me, the guitar and a computer. Everyone got a CD with the songs and we just met in the studio and recorded the songs. I didn't have the time to learn the songs properly with the rest of the band."
A Blessing in Disguise
is an album that never emotionally recoils. Even though Tchort still considers the foregoing Light of Day, Day of Darkness his musical legacy, the successor is an equally important outing. Some of its personal interconnections are reflected on the cover, which depicts Tchort's son Damien, stylised to appear like the Damien of the Omen movies, looking guiltlessly upwards as if to some father figure. Unlike his nasty fictional namesake, Tchort's son really is sweet and innocent, as the proud father accounts: "He really was a blessing for me, giving me back my faith and belief in life, the taste for life, my inspiration." An intimate entity A Blessing in Disguise is, then.
"Green Carnation is the only band in which I express my personal self. I don't do anything else in life that expresses my feelings. It's just the Green Carnation music and lyrics that express me and my personal life at all. In
Carpathian
Forest
and Blood Red Throne there is nothing personal at all, it's just passion and music. But Green Carnation is an outlet for me personally—it has been and probably will always be. It's my only source of personal expression. I think these may be some of the reasons why a lot of people like Green Carnation. It's genuine, it's honest and it comes from something deeper than just passion for music."
Tchort says he doesn't always comprehend the conflicting equations of his musical inclinations.
"Usually I say that I'm not always in a mood where I need to express myself. I'm not always in a bad or sad mood. I have different kinds of personalities and states of mind, and having these three bands gives me the opportunity to express these different kinds of moods. I used to be a really angry person in the past with a lot of hate and a lot of aggression within myself, and this is a good opportunity now to release that with a band like Blood Red Throne. Of course, I have more soft sides. I'm a parent, I have a son, so it's also nice to have a band like Green Carnation through which I express myself. To me it's fulfilling myself, my personal needs and my personal state of mind. It's a perfect mix for me to have these three bands. But yes, it's very contradictory. Like usually I write my signature with an upside-down cross for the T's. Then someone comes to me with the Green Carnation album and wants me to sign it and I'm like, 'Hmm, doesn't fit with that hair, what do I write', haha."
The years from 1994 to 1999 were an extensive spell of limbo for Tchort, a period of time far removed from the burst of activity and inspiration that has made him participate on a dozen of albums in the last four years. From his daughter's passing ten years ago to the birth of his son five years later Tchort says he was 'totally lost' and 'couldn't do anything'.
"I was still playing in other bands like
Carpathian
Forest
, Einherjer and Satyricon but I didn't have any responsibility with promotion, doing lyrics, music or anything. I just had to play so that was the only thing that kept me within music, just to play some other people's music. Just to keep the interest going. But there was no passion.
"I never expect anyone to understand my lyrics or my expression of what happened to me because it happened to me, it didn't happen to the ones who read the lyrics or listen to the music. I don't like reading other people's poems; they have something personal they want to express and I don't understand it because I didn't experience the same thing. It makes me feel weird. I cannot say that 'Hey, this is a good poem' because I don't understand it. It's the same thing with Green Carnation: the two first albums I didn't expect anyone to really say it was good because it's really personal. It's a matter of what you have experienced yourself, if you can relate to it."
Then there is the secret, which has been semi-public for half a decade or so with no actualisation.
"I already have the ideas for the next album which will kind of make a small revolution, not maybe in how the music is done but how an album is presented to the listener. So that's something I really will try to do. If we'll be able to do it—I don't know—it will make a small revolution in how to present an album. I think it will be much more difficult and it will take much more effort than Light of Day, Day of Darkness, so I'm not sure if I really want to go ahead with it for the next album. Maybe I'll jump over one album and do it for the album after the next one because I think it will take a lot of time to do it. I don't want to say too much about it since maybe I won't be able to do it.
"


No wonder the man, now going solo with Green Carnation, keeps repeating that he likes a good challenge. Nothing wrong with that.